Add a Spooky Twist to Your Look With Black Contacts
Black colored contacts are the perfect way to add a scary edge to your Halloween look. They're also great for cosplay, costume parties, and other special events. Black colored contacts are one of the easiest ways to add a splash of color and a pop of personality to any outfit. They're available in a variety of designs and patterns to suit every taste and preference. They're also available in a range of wear cycles to help you find the right fit for your needs.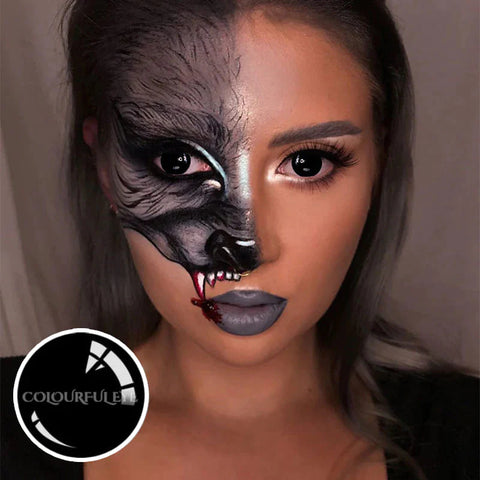 Whether you're looking to create a character for a cosplay event or just want a simple change in your everyday look, black colored contacts are the perfect way to express yourself. You can choose a natural-looking enhancement tint, a bold black sclera lens, or a subtle enhancement design that incorporates iris details and pupillary frills. When you purchase your black colored contact lenses, be sure to know how to clean, disinfect, and store your contacts properly.

If you don't follow these instructions, your colored contacts could become contaminated and cause serious eye damage. This is especially true if you're buying poor-fitting contacts from unapproved sources. It's also important to use a clean, disinfecting solution (We highly recommend contact lens solution from ROHTO / Bausch & Lomb / Alcon) that's specifically designed for colored contacts. Be sure to wash your hands before putting your contacts in, and always keep them out of reach of children and pets. It's also a good idea to wear your colored contacts for less than 8 hours each day and never share them with other people. Failing to wear your contacts safely can lead to an eye infection.
Why You Should Try Black Contacts?
Black colored contact lenses are one of the most comfortable types of coloured contacts available. They are made from soft chemically engineered plastics that are breathable and allow oxygen to reach your eyes. They are also easy to clean and will not damage your natural eye color. This means you will be able to wear them for long periods of time without suffering from any sort of discomfort.

They are perfect for Halloween, costume parties, and Cosplay as well. They are sure to make you stand out from the crowd and get some much-deserved attention! They will also give you the ability to change your look instantly from a normal human to a zombie, witch, or vampire! The best part is that you can wear them over and over again to get the effect you want.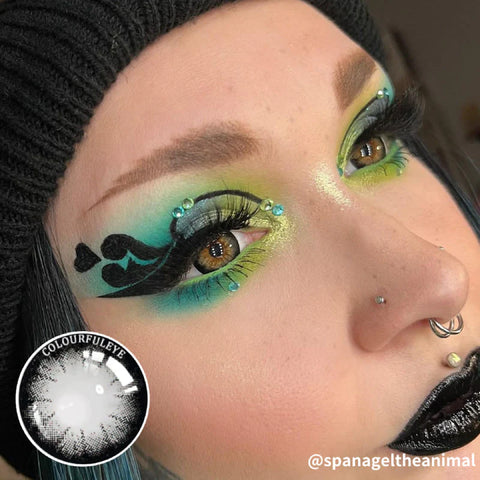 These black coloured contact lenses are also the best ones for the price. They are a great option for anyone looking to get the Halloween or Halloween inspired look they have always dreamed of. They are available in different styles and designs. They are a must-have in any makeup kit. They can be worn for up to 8 hours straight and will not cause any damage to your eye health.

They are also the most effective way to enhance your costume or makeup look. They are the perfect accessory for any occasion and can be used to create a wide range of different effects. The best part is that they are affordable and will not break the bank. The best way to choose a pair of the right black colored contacts is to visit our black contacts series to find the appropriate size and style of lens to suit your needs!
They are Perfect for Halloween
If you're looking for a way to add a spooky twist to your Halloween look, you can't go wrong with black contacts. They're available in a wide range of styles, from sclera lenses to special effect eye contacts. These options will transform your look in an instant and can help you create the perfect costume for any Halloween event.

You can use these black colored contacts to create a number of scary get-ups including zombie, witch, vampire, werewolf and ghost. These are ideal for those who want to slay the night with a terrifying look and will leave your guests stunned. The best part about these lenses is that they are comfortable and very easy to wear. They also provide a great sense of depth and volume to your eyes.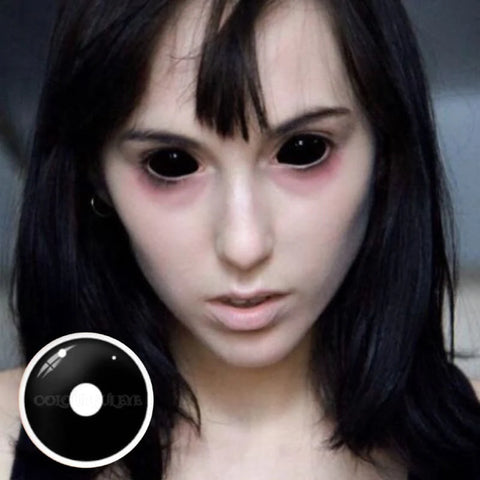 To make sure that your eyes stay safe while wearing them, you should always follow the right contact lens care instructions. This includes removing makeup before placing them in your eyes, as it may damage the lenses and cause infections. You should also use a gentle soap on your hands before applying the lenses to your eyes. This will prevent any dirt, germs, or other debris from getting onto the contact lenses and causing infection.

If you're going to be wearing these lenses for a long period of time, it's a good idea to invest in a pair of reusable contact lens cases so that they don't get lost. You can also purchase a specialized transport box to keep your lenses organized and safe. Whether you're planning to be a demon, a ghost, or just a character from your favorite movie, black spooky eye contacts will make you stand out in the crowd! They're also a great choice for those who are dressing up as something that isn't too frightening.
For Halloween, black coloured contact lenses are a popular choice for many people. They are a great way to transform your look and add a bit of mystery and terror to your costume. They are also perfect for costume parties and other events where you want to stand out from the crowd. Black contact lenses are a great way to enhance your look. They are also extremely easy to wear and comfortable. When buying a pair of black contacts, you should look for ones that are tested and approved by the FDA, so you can be confident that they will not cause any harm to your vision.

First of all, make sure that you buy a high-quality brand. They should be tested and certified, so you know that they are safe to use. You should also check that they are a good cosmetic match for your eyes. You can find this out by checking the manufacturer's website or asking your doctor. Another thing to consider is how long they will last. The better brands will have a recommended care solution, which will help to keep them in top shape. This means that you will need to make a regular check on the quality of your lenses, and replace them when necessary.
After you've learned what to look for in black contacts, don't hesitate to experience the amazing results that black contacts can bring you.